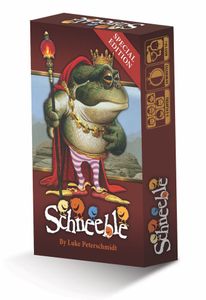 Overview:  Schneeble is a trick taking card game that was designed by Luke Peterschmit and published by Fun to 11.  For complete details about the game, check out the post at Board Game Geek.
Important to us personally, Schneeble was the first game that we supported on Kickstarter. What many people may not know or forget about the crowdfunding method of game production is that there is a significant wait time for your product to arrive after it has been supported. For example, we backed Schneeble in July, then had to wait for the campaign to end to see if it succeeded. Once it succeeds, then production can begin. Then there is a month long process of manufacturing and shipping. All that being said, we just received our copy of Schneeble in the mail not too long ago!
How We Review:  As with any of our reviews, we put the game to the test with no less than 10 play testers, both male and female, as well as a wide age range (teens to 50+). Our evaluation is based on 10 criteria, including clarity of instructions, innovation, artwork, and fun!
Game Contents:  The first impression that we had when we opened the box is that it was a great use of space and components. We loved the small dice that came in the card deck box, along with the cards and rule sheet.
How To Play The Game:  The dice are rolled at the beginning of each round, indicating the number of tricks that you want to win. If you go over or under the number of wins that you intend to during the plays of the game, then you receive points. Once a player reaches 10 points the game is over, and the player with the least amount of points wins!
What We Thought:  The game plays smooth, quick, and simple. Even so, there is much strategy! And due to the nature of special character cards such as Ploogak the Conqueror, Tweezle, and Sloarch, to name a few, the round can change very unexpectantly, making  you plan a new approach for the following round. Seeing as this game is for 3-5 players (ideally 4), it is a good 15-20 minute game for a family or small group to enjoy and can become quite addictive, especially on a rainy day!
Comments From Our Reviewers:
"Played A LOT after we were introduced to it. Really addictive!"
"I like the Schneebles, and the other characters."
"A good trick-taking game. Fun, quick, easy to play!""
"It's a fun card game that has a lot of strategy. It is also a good game for all ages. The length of the game is fairly short."
"Fun!"
"The game was easy to learn and easy to play! It's quickly becoming one of my favorite games. The only critique is the number of players. Would love to see if it could be played with more than or less than 3-5 player range."
"Good game."
"Would even be better if could redesign for 6 players too, or play with 3 to 5 people without changes."
"Not a bad little game."
"Fun game."
Comment From The Designer: "It is a very special game to me because of the people I worked on it with and how easy it is to play with new people." – Luke Peterschmidt.